The TU-155 Industrial Refrigeration Training Unit is perfect for educating HVAC/R students on the principles of commercial and industrial refrigeration systems. Add it to your curriculum and give future technicians an opportunity to learn from hands-on experience. Don't forget to check out our basic refrigeration fundamentals course here.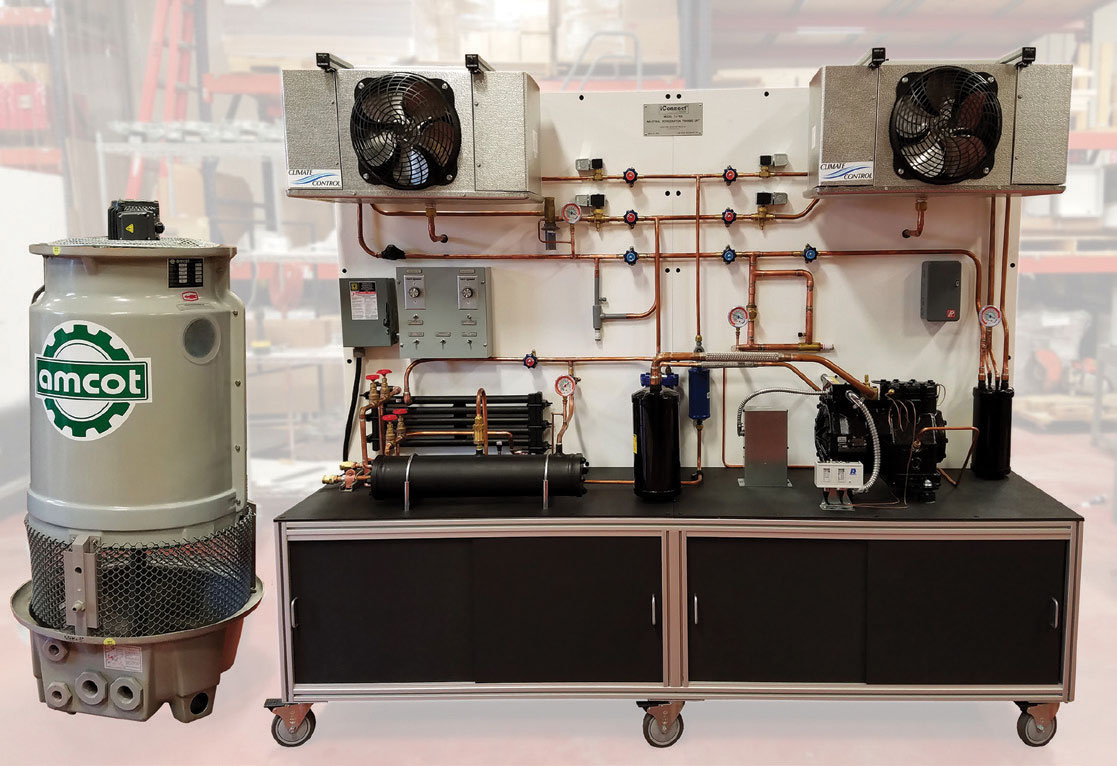 Specifications
Electrical Requirements: 240VAC; 60Hz; 30A
Uses R-422B Refrigerant
Compressor: Semi-hermetic type with 2 HP capacity
Overall Size: 95" L x 25.25" W x 80" H
Water Tower: 115VAC; 60Hz; single phase; 60,000 BTU/hour (This is an optional add-on)
Utility Requirements: city water, drain, and means to vent water vapor
Features
Industrial refrigeration training unit is self-contained and freestanding with storage space underneath
2 forced air type evaporators have 2 common types of defrost mechanisms complete with solenoids, timers, and associated equipment
2 standard types of water cooled condensers (tube-in-tube and shell-in-tube) are supplied and piped to be used with city water and optional water tower
Hot gas by-pass system keeps operating pressures of the compressor constant regardless of the evaporator level
Crankcase pressure regulator allows the compressor to start easily under high evaporator pressures
Includes Instructor Guide
* NOTE: 240V plug not included
PLEASE NOTE: Customer responsible for all proper set-up. Water Tower set-up includes being set, plumbed and wired on location, handled by the customer.
WILL SHIP IN 1 OR 2 CRATES
Crate 1: 1,200 lbs. / 99″ L x 48″ W x 92″ H
Crate 2: 380 lbs. / 56″ L x 46″ W x 70″ H
(Crate 2 is the optional Water Tower)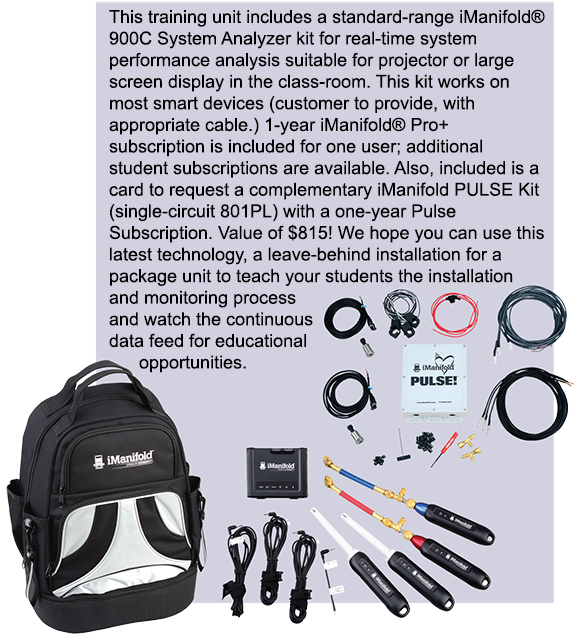 Get more information about iManifold's system analyzer kits here.
Suggested Courses
eLearning curriculum is now available for the TU-155 Industrial Refrigeration Training Unit. The 8 suggested courses below come to a total of 132 credit hours.
101 Fundamentals
135 HVACR Heat Pumps
141 Refrigeration I
142 Refrigeration II
143 Refrigeration Cycle Service Procedures
441 Commercial Refrigeration I for HVAC Techs
442 Commercial Refrigeration II for HVAC Techs
203 Cooling Tower Overview
Learn More About the Industrial Refrigeration Trainer
iConnect Training provides HVAC/R vocational schools with the finest, educational training units. For more information on this particular system, download the spec sheet below or submit a request for quote.