TU-106 Dual-Application Commercial Refrigeration Trainer
The TU-106 Dual-Application Commercial Refrigeration Trainer can show the operation of multi-evaporator systems, dual temperature applications (both low and medium) and an electric resistant heat defrost cycle. This deluxe trainer is great for providing a hands-on experience to future HVAC/R technicians.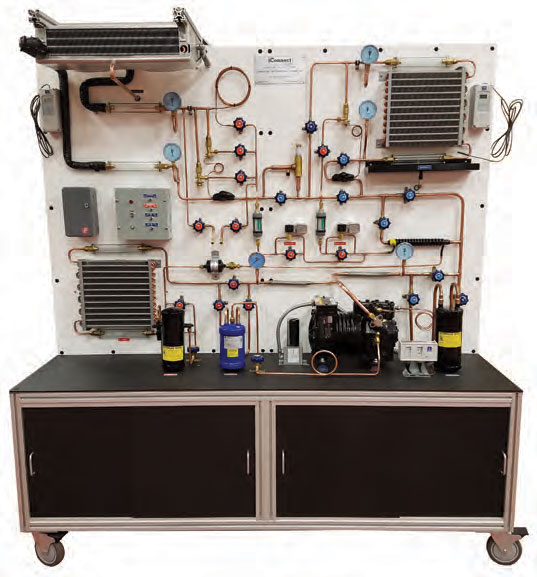 Specifications
Electrical requirements: 120VAC; 60Hz; 15A
Uses R-134a Refrigerant
Overall Size: 72″ L x 20.75″ W x 79″ H
Compressor: Single phase, 1/2 HP semi-hermetic (bolted reciprocating-type)
Panels: 1⁄4″ thick HDPE with steel reinforced component shelf
Features
Customizable isolated access ports for alternate metering devices
Defrost Timer
2 Liquid Refrigerant Flow Meters
Electrical Fault Package
Evaporator Pressure Regulator (EPR)
Sight glass tubes at inlet and outlet of evaporators and condenser constructed of explosion-proof, tie-bolt design
Cut-out and by-pass valves
Hand valves allow malfunctions to be simulated
Many control changes are possible
Thermostatic control with an adjustable range of –30°F to 100°F
2 solenoid liquid line valves
Condenser and Low and Medium Temperature Evaporators: Copper tube coils with aluminum fins and adjustable speed fans mounted on back of panel.
Combine low pressure and high pressure control
Includes Lab Manual and Operation Instructions
Interested in the Dual-Application Commercial Refrigeration Trainer?
Shipping Weight: 1,000 lbs.
Shipping Dimensions: 81″ L x 45″ W x 88″ H
Suggested Courses
eLearning curriculum is now available for the TU-106 Dual-Application Commercial Refrigeration Training Unit. The 7 suggested courses below come to a total of 126 credit hours.
101 Fundamentals
135 HVACR Heat Pumps
141 Refrigeration I
142 Refrigeration II
143 Refrigeration Cycle Service Procedures
441 Commercial Refrigeration I for HVAC Techs
442 Commercial Refrigeration II for HVAC Techs