TU-810 EEV Table-Top Air Conditioning and Refrigeration Trainer
Demonstrate Basic Refrigeration and Air Conditioning Principles with iConnect Training's Unit
Just like the popular TU-805 model, this HVAC/R training unit demonstrates basic refrigeration and AC fundamentals. Unlike other units, the TU-810 EEV Table-Top Air Conditioning and Refrigeration Trainer stands out due to its cutting-edge technology.
With a superheat controller and  electronic expansion valve (EEV), this product is unique as it uses a sophisticated design to control the flow of refrigerant. Right from the classroom, instructors can program, demonstrate and operate an EEV electronic and superheat controller. To better suit training needs, this air conditioning trainer unit is both compact and lightweight to allow easily mobility from classroom to classroom or location to location.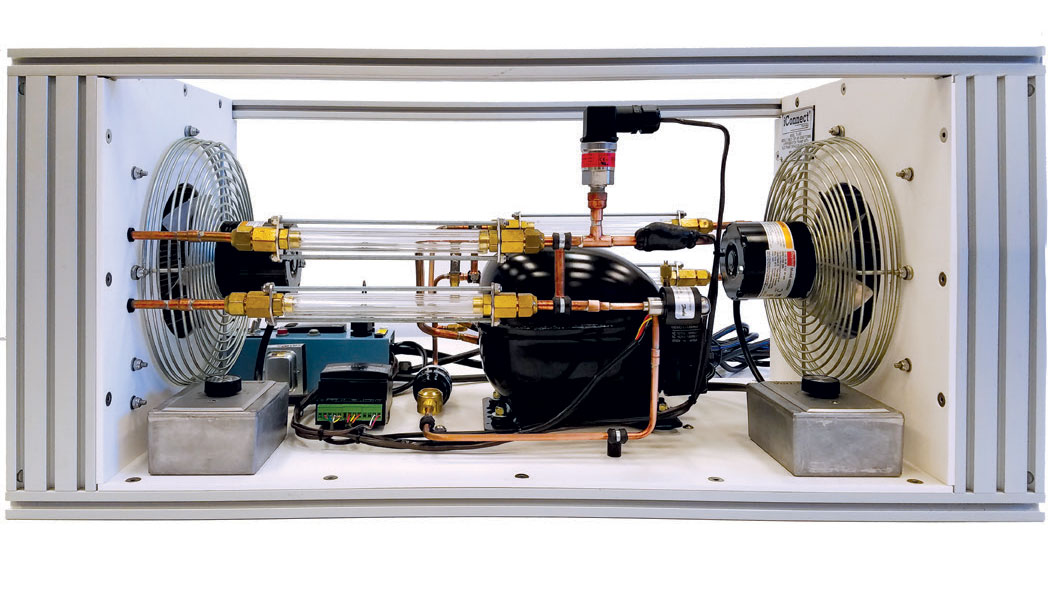 *Purchase convenient push cart separately
Specifications
Electrical Requirements: 120VAC; 60Hz; 15A
Uses R-134a Refrigerant
Overall Size: 34″ L x 16″ W x 16″ H
Weight: 80 lbs.
1⁄3 HP hermetically sealed reciprocating compressor.
Features
Electronic Expansion Valve (EEV) to control the flow of refrigerant with a sophisticated design. This cutting-edge technology can also operate as a fixed orifice metering device.
Demonstrate, operate and program an EEV electronic controller.
Easy access for electrical measurements.
Lightweight for easy on-the-go training; weighing only 80 lbs., this unit can be easily moved, transported and stored.
Variable fan speed controls for evaporator and condenser load adjustment
Sight glasses at inlet and outlet of evaporator and condenser constructed of explosion-proof, tie-bolt design
Conditions of refrigerant and oil can be observed under fluid and gas stages of operation
Evaporator and condenser copper tube coils with aluminum fins
Drip pan located under the evaporator for condensation drain
Includes Operation Manual
Suggested Courses
eLearning curriculum is now available for the TU-810 EEV Table-Top Air Conditioning and Refrigeration Training Unit. The two suggested courses below come to a total of 36 credit hours.
141 Refrigeration I
142 Refrigeration II
Shipping Weight: 220 lbs.
Shipping Dimensions: 36″ L x 44″ W x 25″ H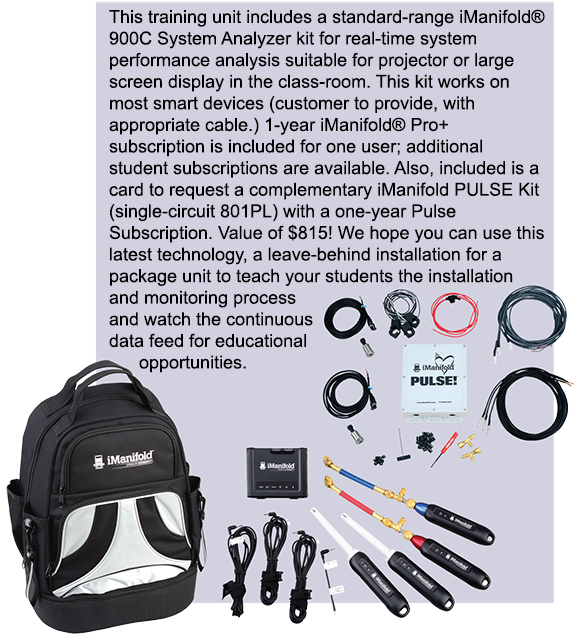 Interested in This Training Unit?
Download the spec sheet below for more information or request a quote. An iConnect Training specialist will reach out to you shortly.