TU-101 Domestic Refrigeration Build-Up Trainer
The TU-101 Domestic Refrigeration Build-Up Trainer is designed for the student with a working knowledge of the theory of refrigeration. Using this refrigeration training equipment, students are asked to design a system that matches specifications of a particular situation. Also, the double evaporator simulates a dual evaporator system application that demonstrates basic principles and provides service experience. The instruction kit and experiment manual provide directions for set-up and assembly. Components are provided for backboard mounting in preferred arrangement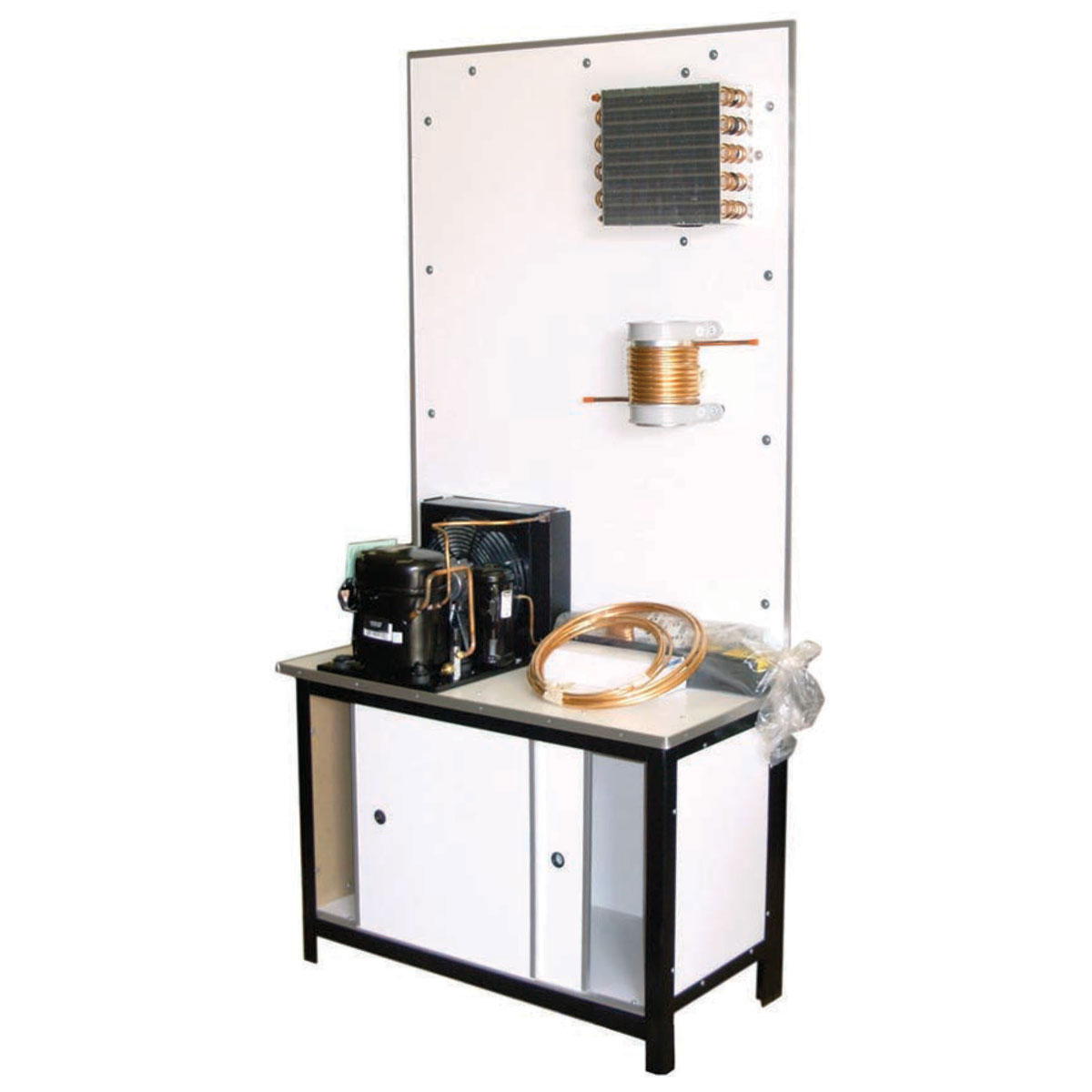 Specifications
Uses R-134a refrigerant
Electrical Requirements: 120VAC, 60Hz, 15A
Overall Size: 34.5″ L x 18″ W x 73″ H
Features
1⁄4 HP hermetic compressor with air-cooled condenser
Domestic freezer static evaporator
Finned high humidity evaporator
Capillary tube
Dehydrator
Temperature control
Hand valve to regulate temperature differences in evaporator
Includes Lab Manual
Instructor Guide
Suggested Courses
eLearning curriculum is now available for the TU-101 Domestic Refrigeration Build-Up Training Unit. The four suggested courses below come to a total of 75 credit hours.
111 Electrical DC Theory Plus
112 Electrical AC Theory Plus
113 Electrical Common Components
114 Electrical Motors
Interested in the Domestic Refrigeration Build-Up Trainer?
Submit a request for quote below. Not ready to buy yet? Download the spec sheet to learn more about the TU-101 training unit. View iConnect Training's catalog for a complete list of HVAC/R training solutions.
Shipping Weight: 350 lbs.
Shipping Dimensions: 49″ L x 45″ W x 87″ H