Welcome to the world of advanced HVAC/R training with the TU-806 R-290 EEV Table-Top AC & Refrigeration Training Unit! Developed by iConnect Training, this versatile and environmentally friendly tool is designed to offer students and professionals a comprehensive learning experience in refrigeration and air conditioning systems.
Featuring an electronic expansion valve (EEV) and utilizing the natural refrigerant R-290, the TU-806 is a powerful educational instrument that mimics a basic HVAC system. It shares many similarities with the TU-805 Mobile Table-Top Air Conditioning & Refrigeration Trainer, offering an enhanced learning experience for users.
This trainer is an excellent choice for those seeking to deepen their understanding of HVAC technology and gain hands-on experience. It combines advanced technology, an intuitive interface and a portable design making it a truly exceptional training unit.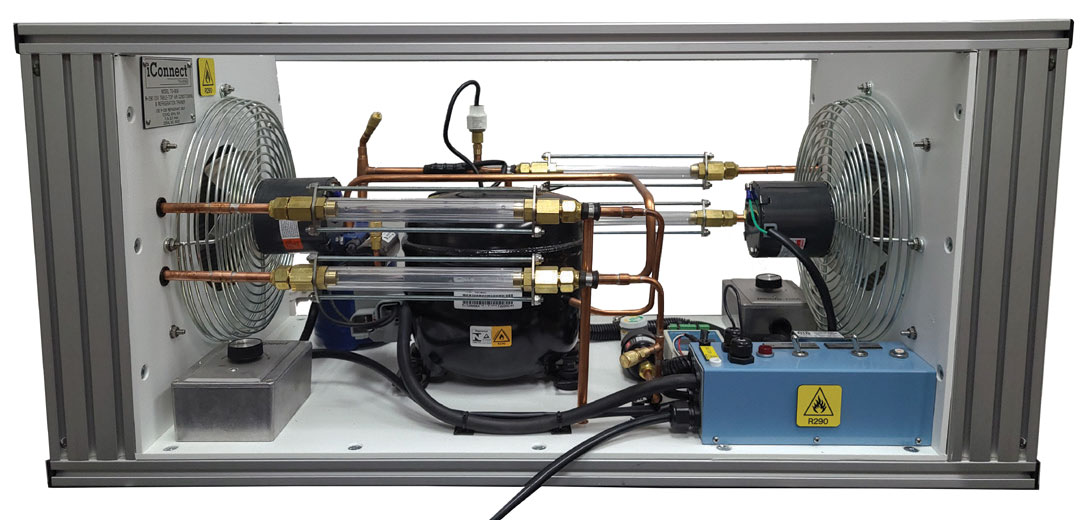 Specifications
Utilizes new "green" refrigerant R-290
Electrical Requirements: 120VAC; 60Hz; 15A
Overall Size: 34″ L x 16″ W x 16″ H
Weight: 80 lbs.
1⁄3 HP hermetically sealed reciprocating compressor.g compressor.
Features
Electronic Expansion Valve (EEV) to control the flow of refrigerant with a sophisticated design. This cutting-edge technology can also operate as a fixed orifice metering device.
Demonstrate, operate and program an EEV electronic controller.
R-290 natural refrigerant: can be vented to outdoor atmosphere (does not need to be recovered)
Easy access for electrical measurements.
Lightweight for easy on-the-go training; weighing only 80 lbs., this unit can be easily moved, transported and stored.
Variable fan speed controls for evaporator and condenser load adjustment
Sight glasses at inlet and outlet of evaporator and condenser constructed of explosion-proof, tie-bolt design
Conditions of refrigerant and oil can be observed under fluid and gas stages of operation
Evaporator and condenser copper tube coils with aluminum fins
Drip pan located under the evaporator for condensation drain
Includes Operation Manual
This unit utilizes a natural refrigerant, R-290, and certain schools and campuses may have restrictions on maximum ounces of such A3 refrigerants.
Suggested Courses
eLearning curriculum is now available for the TU-806 R-290 EEV Table-Top Air Conditioning & Refrigeration Training Unit. TU-806: Suggested 2 courses totaling 36 credit hours.
141 Refrigeration I
142 Refrigeration II
Shipping Weight: 230 lbs.
Shipping Dimensions: 36″ L x 44″ W x 25″ H