TU-105 Commercial Refrigeration Trainer
The TU-105 Commercial Refrigeration Trainer is used to educate students on commercial refrigeration and air conditioning systems. This unit is intended for advanced learning. For a basic refrigeration trainer, take a look at the TU-100 Basic Refrigeration Training Unit.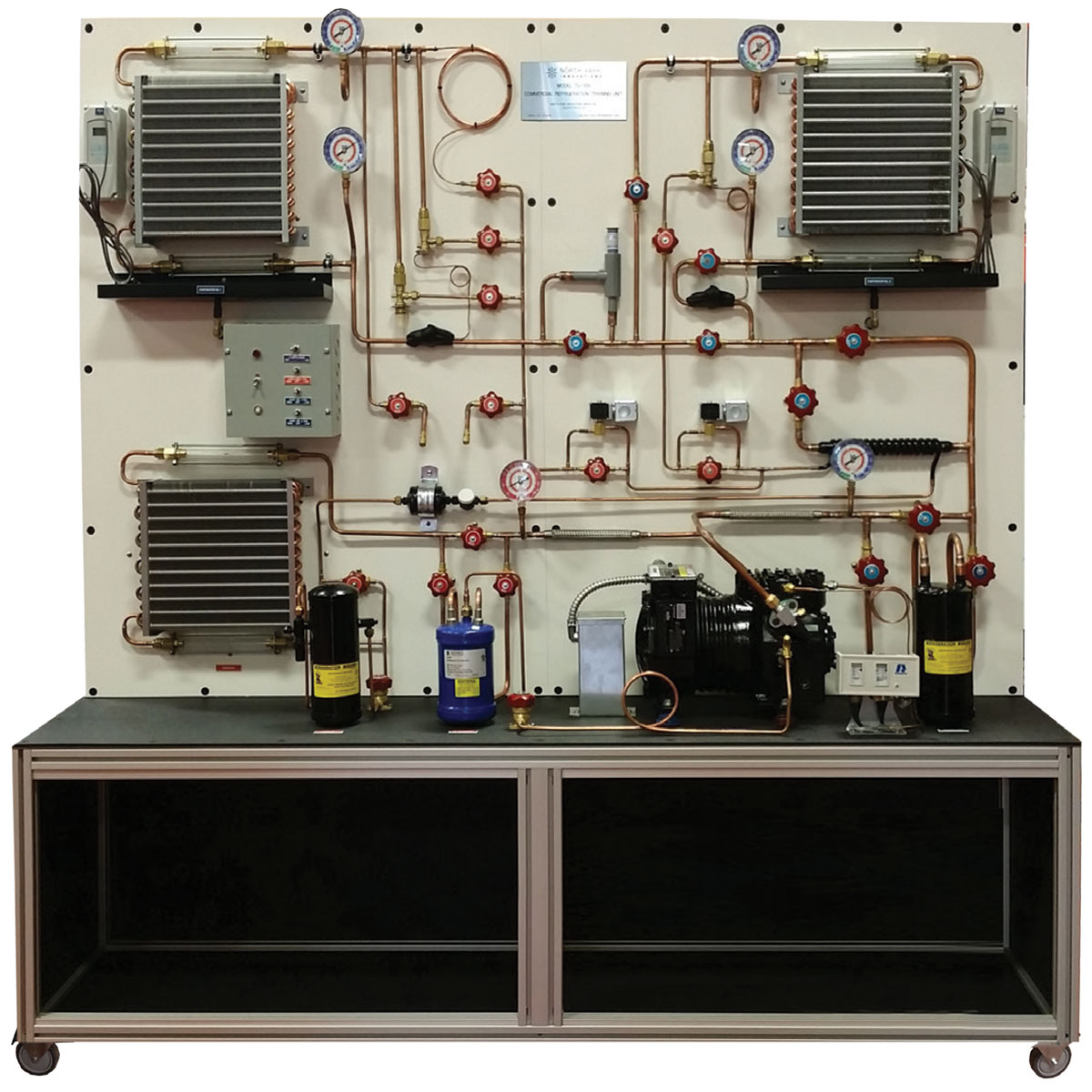 Specifications
Electrical requirements: 120VAC; 60Hz; 15A
Uses R-134a Refrigerant
Overall Size: 72″ L x 20.75″ W x 77.5″ H
Compressor: Single phase, 1/2 HP semi-hermetic (bolted reciprocating-type)
Panels: 1⁄4″ thick HDPE with steel reinforced component shelf
Features
Evaporator Pressure Regulator (EPR)
2 Liquid Refrigerant Flow Meters
Customizable isolated access ports for alternate metering devices
Sight glass tubes at inlet and outlet of evaporators and condenser constructed of explosion-proof, tie-bolt design
Cut-out and by-pass valves
Hand valves allow malfunctions to be simulated
Many control changes are possible
Combination low pressure and high pressure control
Thermostatic control with an adjustable range of –30°F to 100°F
2 solenoid liquid line valves
Evaporators and condenser: Copper tube coils with aluminum fins and variable speed fans mounted on back of panel
Includes Lab Manual and Operation Instructions
Shipping Weight: 1,000 lbs.
Shipping Dimensions: 81″ L x 45″ W x 88″ H
Interested in This Commercial Refrigeration Trainer?
Make sure to download the spec sheet or request a quote below. An iConnect Training representative will be in contact shortly. For additional questions, please call (716) 468-4047.
e-Learning Curriculum
TU-105: Suggested 7 Courses Totaling 126 Credit Hours
Subscription includes instructor's selection of any 5 courses in catalog. Add more courses by request. 
101 Fundamentals
135 HVACR Heat Pumps
141 Refrigeration I
142 Refrigeration II
143 Refrigeration Cycle Service Procedures
441 Commercial Refrigeration I for HVAC Techs
442 Commercial Refrigeration II for HVAC Techs
Learn More About the TU-105
This commercial unit allows students to really see what happens with refrigeration when it's pumping through the system as well as the different metering devices and components. Much like the TU-100 trainer, there are site glasses at both the inlet and outlet. Instructors can simulate different kinds of load conditions with variable fan speed control or show three different metering devices using the hand valve configuration.