PT-201 DDC/BAS Programmer Training Unit
iConnect Training's PT-201 is a DDC/BAS programmer training unit designed for technicians who work with programmable unitary controllers. Graphical object oriented programming is presented using the non-proprietary, open-licensed Sedona Framework®.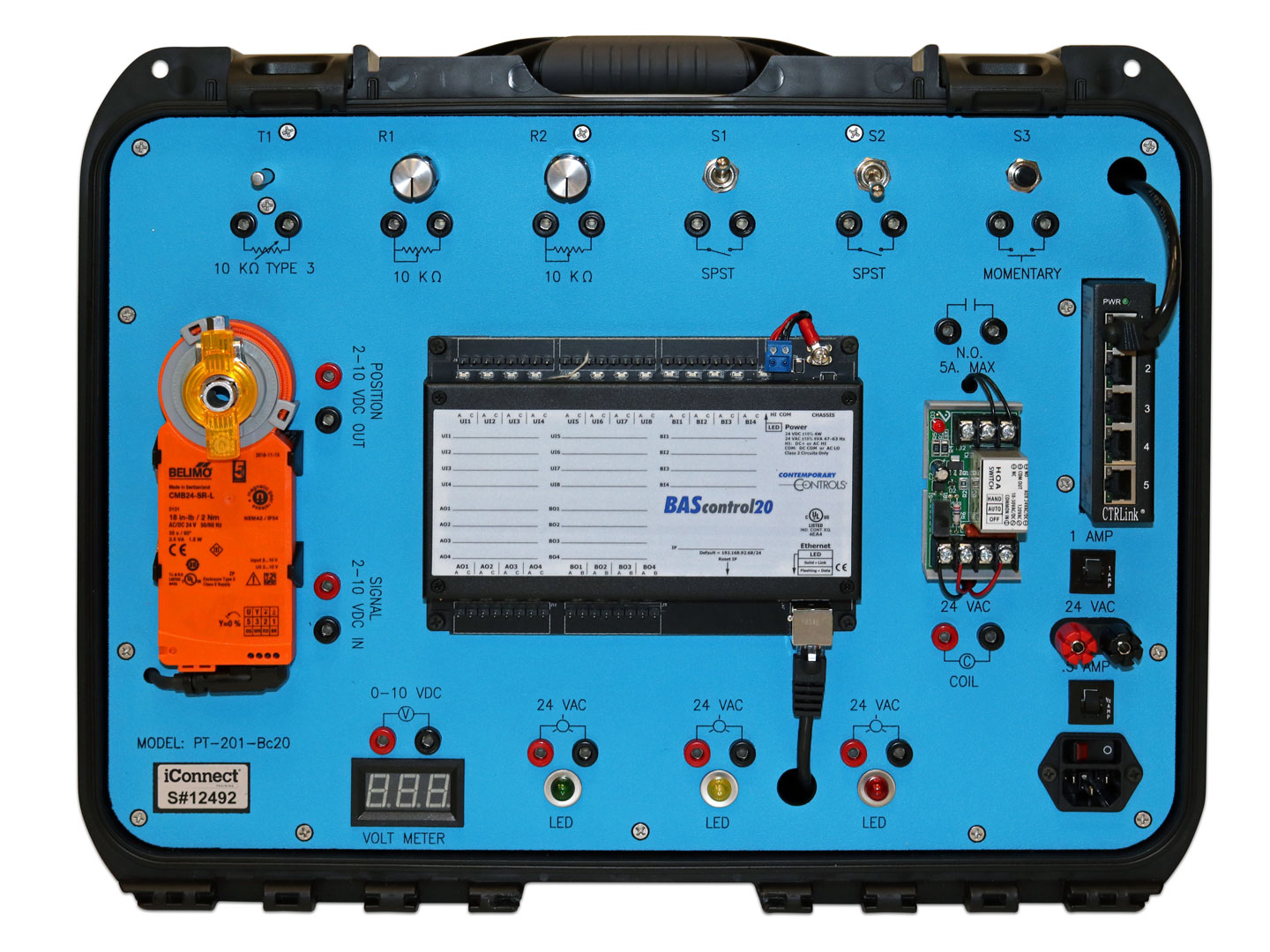 Specifications
Power Requirements: 50W; 120VAC; 60Hz
Operating Temperature: 55°F to 85°F
Storage Temperature: 10°F to 110°F
Relative Humidity: 10 to 95% RH non-condensing
Mounting: 5/16" carriage bolts (2) optional
Shipping Weight: 20 lbs (not including workbooks)
Dimensions: 18.5"W x 14"H x 7"D (w/cover)
Features
Programmable Sedona 20 point unitary controller with BACnet IP, and web interface
Instrument panel with Input/Output components and 24VAC posts
Belimo 2-10VDC Actuator with 2-10VDC position feedback
Relay with HOA switch
0-20VDC Digital meter
5 port Ethernet switch 10/100mpbs
Banana plug jumper kit with storage pouch
The PT-201 DDC/BAS Programming system can be purchased in two versions:
PT-201-Bc20 – Contemporary Controls BAScontrol20 controller, BAS Toolkit software, Intro to Sedona Course Curriculum (USB Drive). Pre-wired Banana Test Leads. Full 1 yr. warranty.
PT-201-DIN – DIN rail mount (No controller included), BAS Toolkit, Banana Test Lead Kit. Limited 1yr. warranty. No curriculum included.
Suggested Curriculum
E-Learning Curriculum Now Available!
PT-201: Additional suggested 4 courses totaling 72 credit hours
Subscription includes Instructor's selection of any 5 courses in catalog. Add more courses by request.
154 Control System Types and BAS Basics
155 BAS Installation and Strategies
156 BAS System Management and Advanced Technologies
159 IT for HVAC Techs
Interested in the DDC/BAS Programmer Training Unit?
Submit a request for quote or download the spec sheet for more information.
Shipping Weight: 22 lbs.
Shipping Dimensions: 24″ L x 18″ W x 14″ H