TU-406C Residential Heat Pump Trainer
Teach Hands-On Troubleshooting with This Residential Heating & Cooling Training Unit
With this training simulator, HVAC/R students get real-world experience working on an air conditioning unit in a residential home. iConnect Training's TU-406C Residential Heat Pump Trainer allows future technicians to practice troubleshooting wiring, piping and controls. Also, they can easily observe the refrigeration heat pump cycle and the fluid stage of the refrigeration cycle. It comes configured with duct-work and a large digital display to show live readings.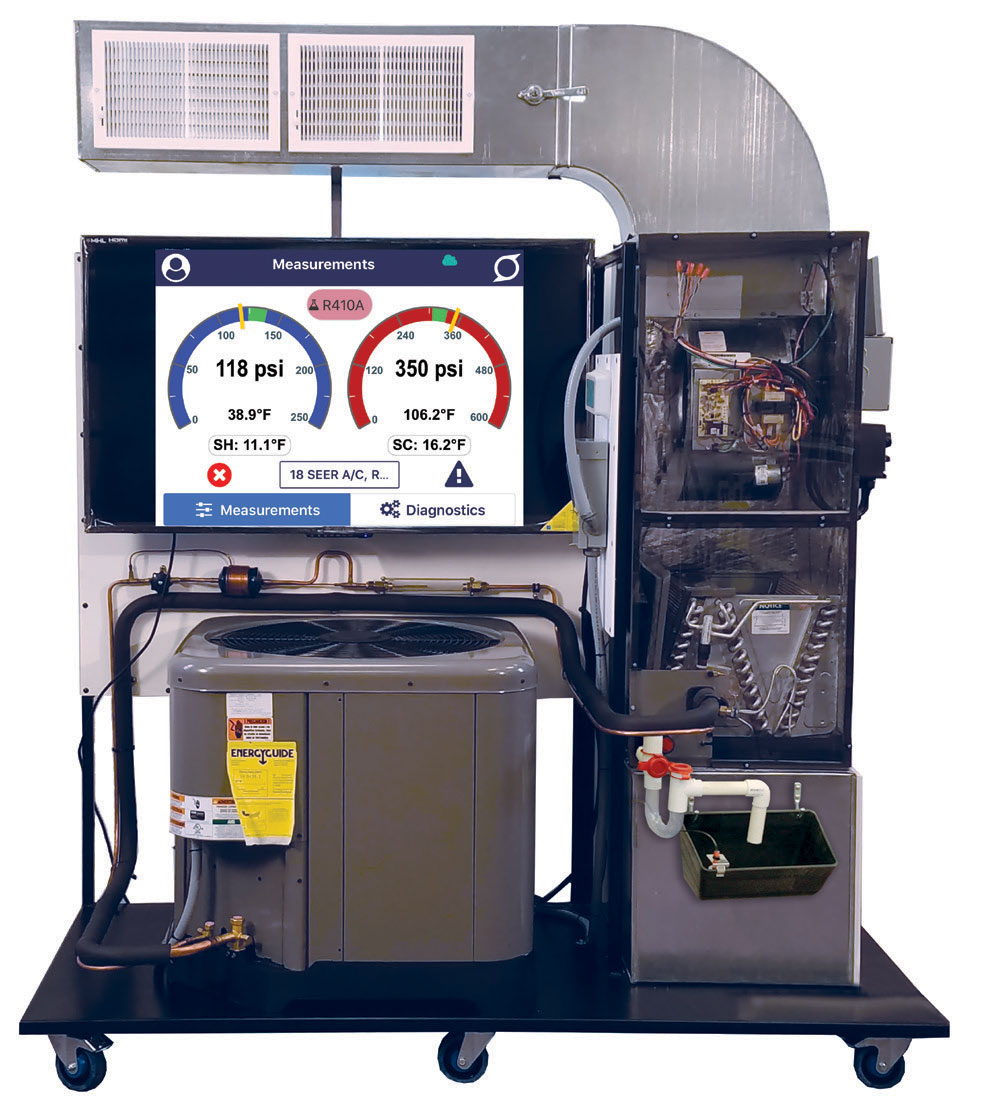 Specifications
Electrical Requirements: 240VAC; 60Hz; 20A; 4-wire
Uses R-410a Refrigerant
TU-406 Overall Size:70″ L x 33″ W x 67″ H
TU-406C Overall Size:70″ L x 33″ W x 85″ H
Features
Fault simulation with two refrigerant faults and four electrical faults
Provides numerous real-world applications and trouble-shooting examples
Refrigeration heat pump cycle can be observed
High-pressure refrigeration tubing piped to sight glass for direct observation of the fluid stage of the refrigeration cycle
Pressure, temperature and electrical readings can be made
Visible wiring and piping
R410a refrigerant can be pumped down
Reversing valve that is operated through a digital thermostat
Metering device/thermostatic expansion valve
2 sets of pre-connected high and low pressure refrigeration gas/ liquid gauges
Operation Manual describing how the unit works as well as its faults
Necessary line and low voltage wiring
Low voltage transformer and wiring
Includes Lab Manual and book Heat Pumps: Operation, Installation & Service, with student assignments and Instructor's Guide CD
Optional add-on equipment package provides all the professional tools necessary to complete service checks
Suggested Courses
eLearning curriculum is now available for the TU-406C Residential Heat Pump Training Unit. The 13 suggested courses below come to a total of 234 credit hours.
101 Fundamentals
111 Electrical DC Theory Plus
112 Electrical AC Theory Plus
113 Electrical Common Components
114 Electrical Motors
121 Air Properties and Measurement
135 HVACR Heat Pumps
141 Refrigeration I
142 Refrigeration II
143 Refrigeration Cycle Service Procedures
241 Intro to Cooling System Troubleshooting
242 R-410A Refrigerant Technology
243 Advanced Troubleshooting
Shipping Weight: 1,115 lbs.
Shipping Dimensions: 80″ L x 48″ W x 78″ H