TU-601 Multi-Head Mini Split Heat Pump Training Unit
Ductless mini split technology is the largest growing sector in the industry. Use this new heat pump training unit to teach the skills necessary to capitalize on the growing electrification of HVAC to reduce global warming.
This training unit features a 2-zone mini split heat pump system including high wall mounted unit and ceiling cassette mounted on an aluminum frame. Students can observe the flow of refrigerant at key points within the system through (6) extended-view sight glasses.
Advanced troubleshooting features include an electrical fault package via toggle switches, and a louver to adjust air flow to the outdoor unit.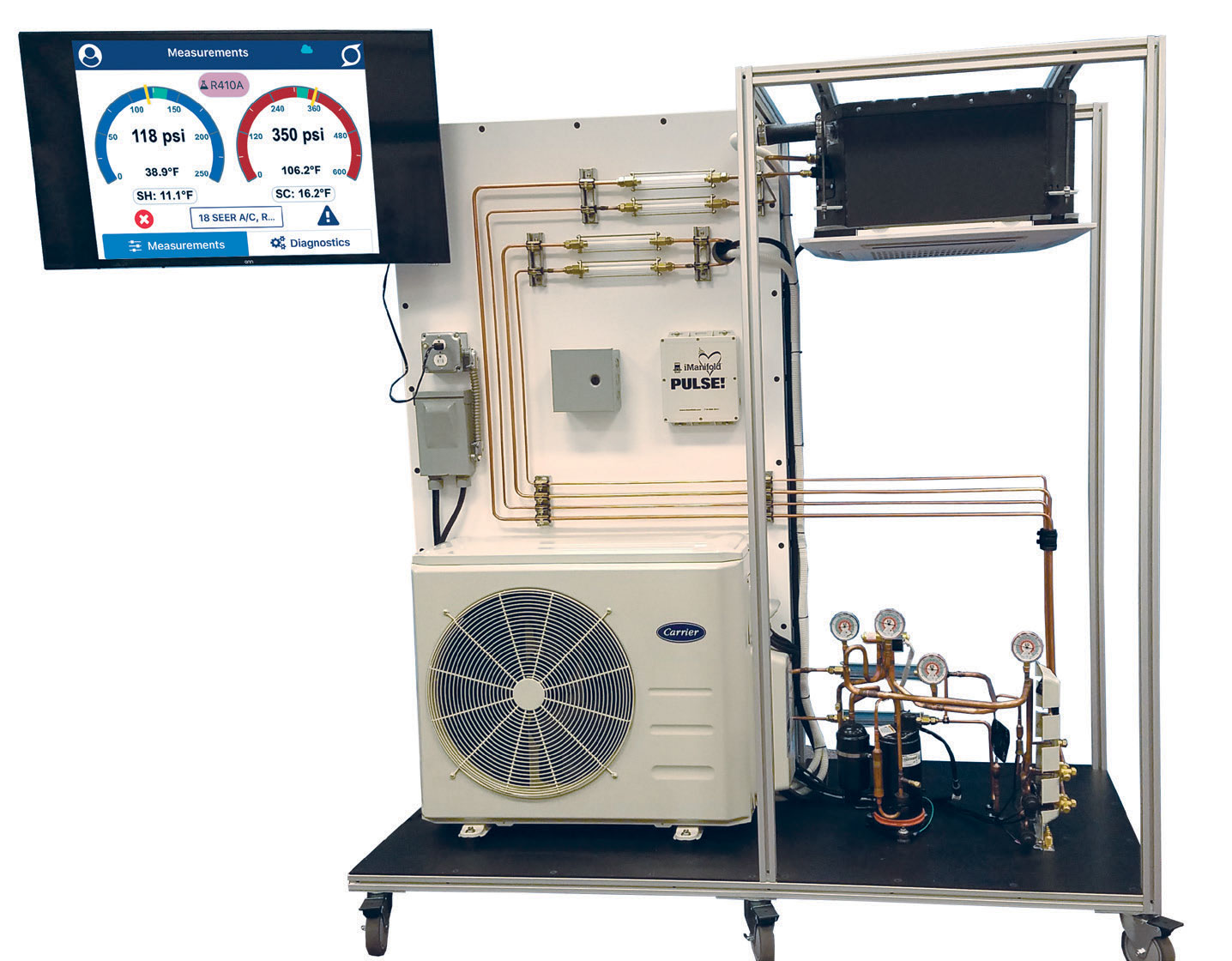 Specifications
Electrical Requirements: 208/230VAC; 60Hz; 30A
Overall Size: 73″ L x 33″ W x 79″ H
Uses R-410A Refrigerant
Recommended Accessories:
Smart Phone or Tablet for Data display and HDMI adapter and cable
Features
Dual Zone Ductless Mini Split Heat Pump system
Zone 1 – Indoor High Wall Unit
Zone 2 – Ceiling Cassette
Louver for control of air flow to outdoor unit
Toggle switches for electrical faults
Access to service ports on high and low side of system
TV display screen
Suggested Courses
eLearning curriculum is now available for the TU-601 Multi-Head Mini Split Heat Pump Training Unit. The five suggested courses below come to a total of 95 credit hours.
141 Refrigeration I
135 Heat Pumps
111 DC Electrical Theory Plus
113 Electrical Components
114 Electric Motors
Shipping Weight: 980 lbs.
Shipping Dimensions: 86″ L x 48″ W x 90″ H
INCLUDES: 801PL Pulse Kit is installed on this training unit.
Interested in This Heat Pump Trainer?
Download the spec sheet below or submit a request for a quote.