TU-502 Gas Fired Heating Control Board
The TU-502 Gas Fired Heating Control Board contains a complete set of electrical controls for a furnace (with air conditioning) to demonstrate basic principles and provide electrical service experience. With this table-top HVAC/R trainer, technicians receive interactive education around heating systems.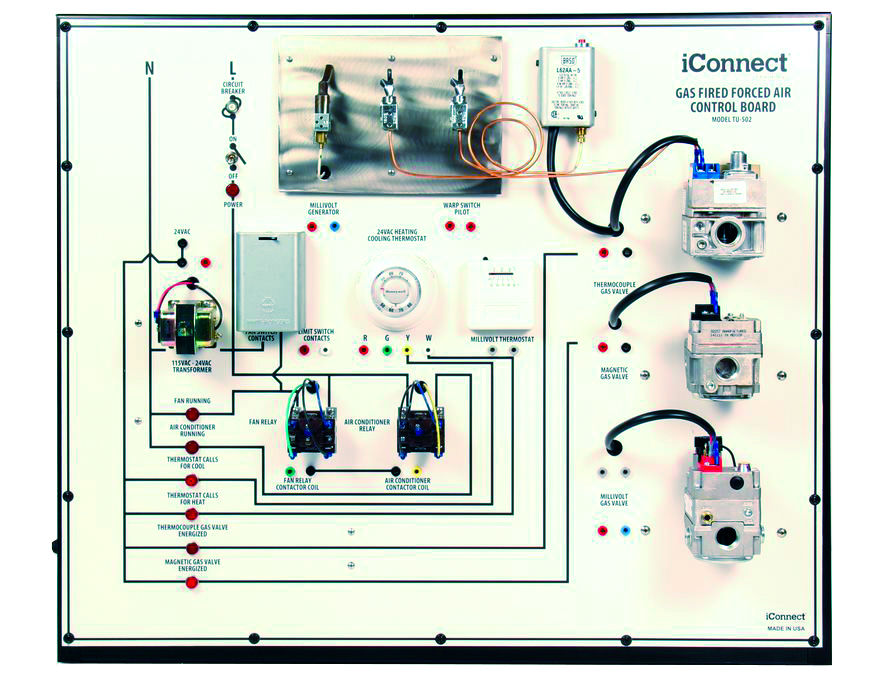 Specifications
Electrical Requirements: 120VAC; 60Hz; 15A
Overall Size: 35″ L x 13″ W x 30″ H
Weight: 70 lbs.
Features
All components are panel mounted and the wires are brought to terminals on the front panel
Equipped for both thermocouple and thermopile systems
Signal lamps show simulated operation of burner valves, circulating fan air, and air conditioning compressor
Includes Operation Manual
E-Learning Curriculum Now Available!
Suggested 5 courses totaling 90 credit hours
Subscription includes instructor's selection of any 5 courses in the catalog. Add more courses by request.
101 Fundamentals
111 Electrical DC Theory Plus
112 Electrical AC Theory Plus
113 Electrical Common Components
133 Gas Heat
Interested in the TU-502 Gas Fired Heating Control Board by iConnect Training?
Learn more about this educational control board product by downloading the spec sheet or requesting a quote below.
Shipping Weight: 190 lbs.
Shipping Dimensions: 37″ L x 48″ W x 42″ H
Want to learn more about the iManifold product line and their digital technology? Visit imanifold.com.
How Instructors Use the TU-502 Gas Fired Heating Control Board
With this training unit, instructors can:
Introduce the gas burner system and millivolt systems
Teach basic electrical devices and analyzers for heating control systems
Show how to test with electrical instruments
Go over the thermostat, gas valves and thermocouples
Demonstrate how to troubleshoot the safety shutoff system
Review the fan-limit controls