PT-181 DDC Portable Training Unit
Specifically Designed for the Direct Digital Controls (DDC) Industry
iConnect Training's PT-181 is a portable training unit specifically designed for the DDC (Direct Digital Controls) industry. It incorporates the JS8000, which is used throughout the industry. Many manufacturers in the industry are using some sort of the JS8000 such as Honeywell, Distech, JCI, Allerton and Vicon. Learning this controller will set students up for success in the HVAC industry.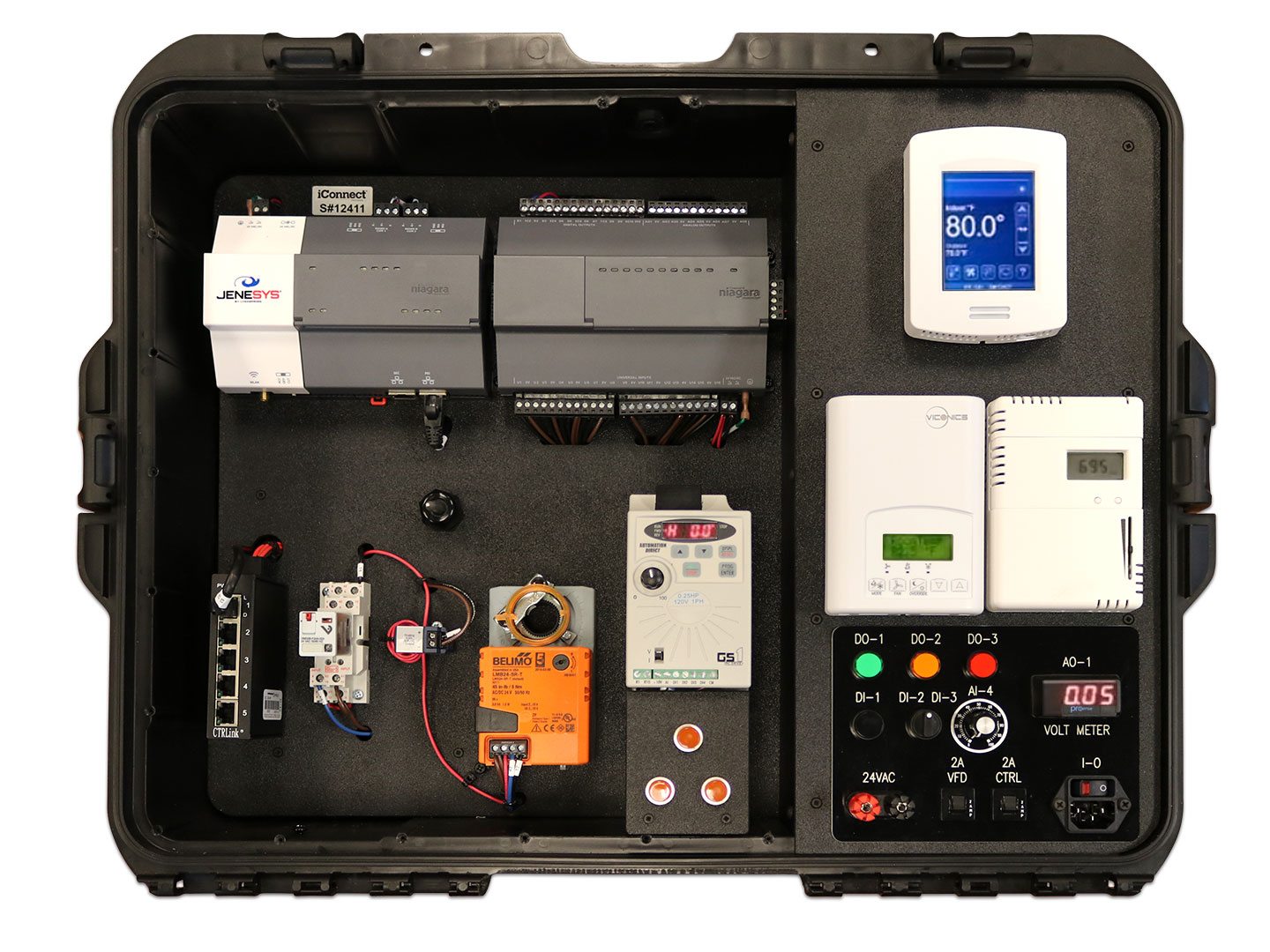 Specifications
Power Requirements: 100W 120VAC 60Hz
Operating Temperature: 55°F to 85°F
Storage Temperature: 10°F to 110°F
Relative Humidity: 10 to 95% RH non-condensing
Mounting: 3/8" carriage bolts (2) optional
Dimensions: 24"W x 21"H x 10"D (w/cover)
Features
DDC Controller, Web enabled, JACE 8000 series, with permanent BACnet, LON, Modbus licenses
34 point Remote Input/Output module with integral power supply
Programmable RTU thermostat with color touchscreen, BACnet MSTP, and web interface
Communicating FCU thermostat with analog output and BACnet MSTP interface
CO2 / temperature room sensor with setpoint slider
Micro VFD with Modbus interface and 3 phase visual output indicators
90 degree stroke Actuator with 2-10VDC position feedback
Status CT, Pilot relay with Auto/On override, Thermistor temp probe
Instrument panel with Input/Output devices and 24VAC posts
0 to 20VDC Digital meter
5 port Ethernet switch 10/100mpbs
USB Drive with included Course Curriculum

Suggested Courses
eLearning curriculum is now available for the PT-181 DDC Portable Training Unit. The five suggested courses below come to a total of 93 credit hours.
154 Control System Types & BAS Basics
155 BAS Installation and Strategies
156 BAS System Management and Advanced Technologies
157 Troubleshooting DDC Systems & Components
159 IT for HVAC Techs
Interested in Our DDC Portable Training Unit?
Give us a call at (716) 699-2031 or request a quote below. Don't forget to download the spec sheet below or our iConnect Training product catalog here.
Shipping Weight: 43 lbs.
Shipping Dimensions: 28″ L x 24″ W x 20″ H
Learn More About the PT-181 DDC Portable Training Unit
This DDC training unit is very versatile as it can be used in the classroom setup with a dozen different users or as a self-paced learning environment. Instructors can train multiple people with multiple units or individuals with a single portable unit. Also, multiple units can be linked together. The trainer-student atmosphere can be as deep as the instructor wants it to go. It's basically a building-in-a-box. All these different components what can be found throughout a building. Instead of running around to test and touch each component, it can all be found in one unit which really allows students to learn the programming and system all in one sitting. Don't forget, it's packaged with curriculum that is both embedded in the trainer and contained in a written workbook resulting in a highly interactive student – trainer experience. The PT-181 incorporates some of the most popular DDC devices currently in use.
If the PT-181 is a little too advanced, iConnect Training also has a few other different BAS training simulators including the BL-01, BL-02 and the PT-201. Each of these units has unique features and functions depending on specific needs. Consider those before graduating to the PT-181.