TU-302 Control Board, Electric Heat Trainer
The TU-302 Control Board, Electric Heat Trainer is perfect for students learning the basics of electric heat control systems. This unit is equipped with a heat-cool thermostat and step up transformer that increases 115V supply to 220V supply. Therefore, you must remember when testing with your voltmeter, that it is on the AC scale. All the controls are surface mounted. Do not stick your fingers where they can come in contact with the wiring connections on this unit. USE CAUTION! Electric shock can occur.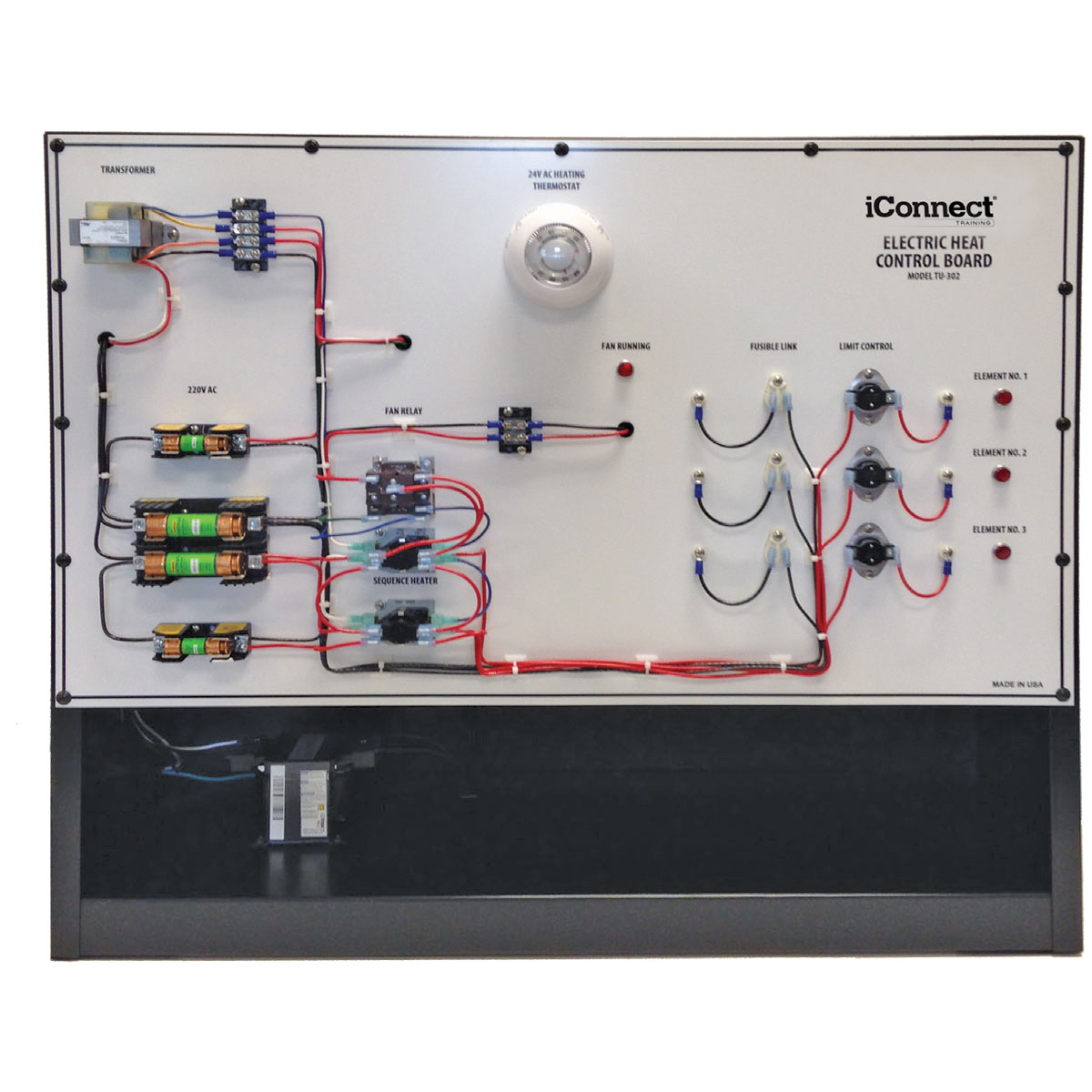 Specifications
Electrical Requirements: 120VAC; 60Hz; 15A
Overall Size: 35″ L x 13″ W x 30″ H
Weight: 70 lbs.
Power Requirements: 115 VAC
Power Fuse: AGC1
Features
Complete set of operating controls of an electric furnace
Wired 3 element furnace circuit
Simulated heater elements operation shown by signal lamps
Sequences
Klixon limit switch
Fusible link safety device
Thermostat
Transformer steps voltage from 120 VAC to 240 VAC
Fan delay control
Board designed for use on a bench or table
Includes Instructor Guide
How Instructors Use the TU-302 Control Board, Electric Heat Trainer
With this training unit, instructors can:
Teach electrical safety
Demonstrate start up and shut down operations for the heating and cooling modes
Familiarize students with the operating sequence
Show how to take voltage measurements and use the correct range on the voltmeter
E-Learning Curriculum Now Available!
Suggested 5 courses totaling 90 credit hours
Subscription includes instructor's selection of any 5 courses in the catalog. Add more courses by request.
111 Electrical DC Theory Plus
112 Electrical AC Theory Plus
113 Electrical Common Components
139 Electric Heat
243 Advanced Troubleshooting
Interested in the Electric Heat Trainer?
Download the TU-302's spec sheet below or request a quote.
Shipping Weight: 200 lbs.
Shipping Dimensions: 37″ L x 48″ W x 42″ H