TU-701 Table Top Heat Pump Trainer
The TU-701 Table-Top Heat Pump Trainer provides real world experience in troubleshooting wiring, piping and controls on a working heat pump unit. Since this isn't an advanced trainer, it is perfect for introducing heat pump theory.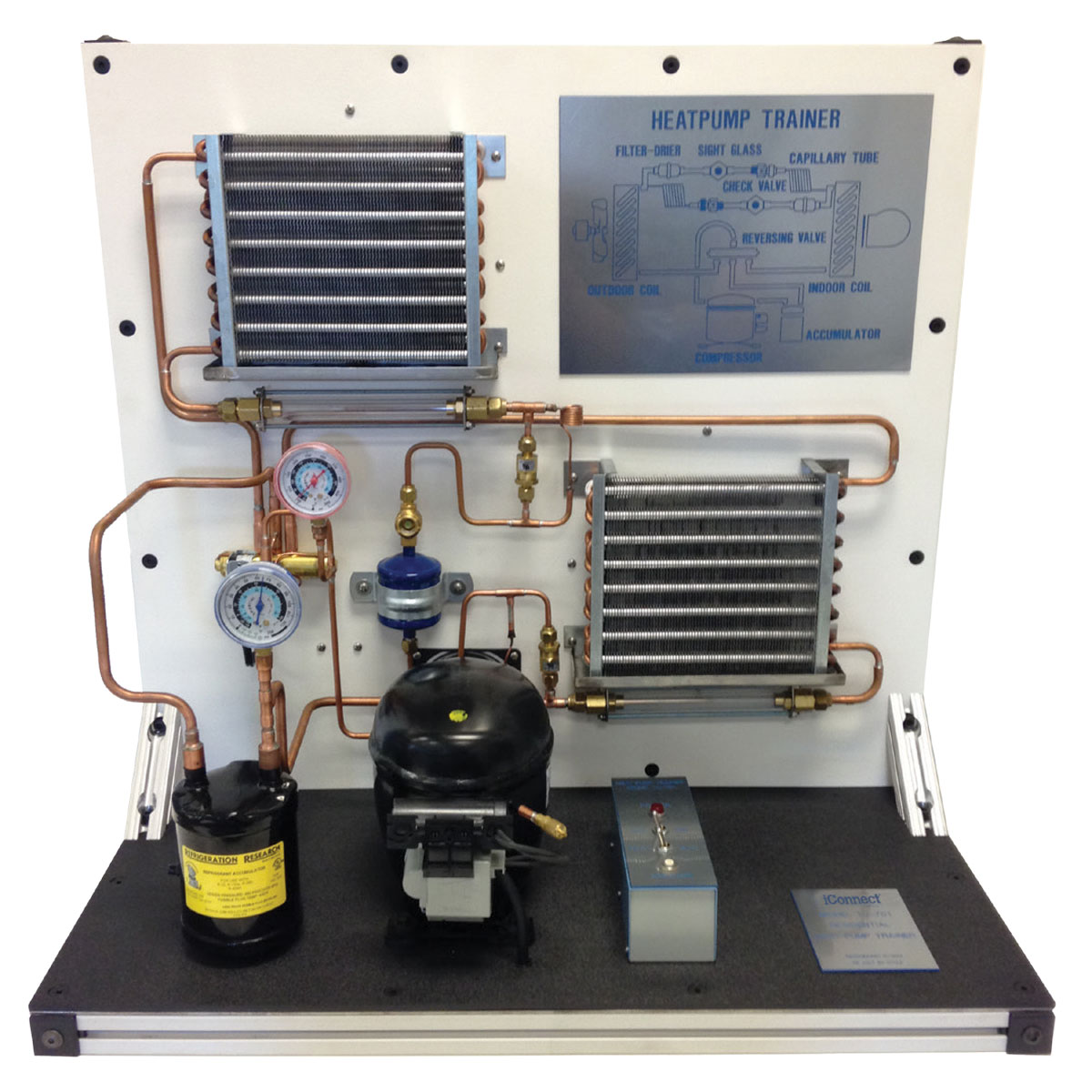 Specifications
Electrical Requirements: 120VAC; 60Hz; 15A
Uses R-134a Refrigerant
Overall Size: 34″ L x 17″ W x 32″ H
Features
Pre-piped and pre-wired trainer with all in complete view
Refrigeration heat pump cycle can be observed
Pressure, temperature and electrical readings can be made
Sight glass tubes before and after metering device constructed of explosion-proof, tie-bolt design
Evaporator and condenser: copper tube coils with aluminum fins and fixed speed fans
Pre-piped suction and high pressure refrigeration tubing is visible for direct observation of the fluid and gas stages of the refrigeration cycle
All necessary line voltage wiring
120VAC with circuit breaker
Includes Operation Manual and book Heat Pumps: Operation, Installation & Service, with student assignments and Instructor's Guide CD
Interested in This Heat Pump Trainer?
If you want more information about this HVAC trainer, you can download the spec sheet below. Ready to buy? Request a quote and an iConnect Training representative will be in touch.
e-Learning Curriculum
TU-701: Suggested 3 Courses Totaling 57 Credit Hours
Subscription includes instructor's selection of any 5 courses in catalog. More courses can be added upon request.
135 HVACR Heat Pumps
141 Refrigeration I
142 Refrigeration II
Shipping Weight: 255 lbs.
Shipping Dimensions: 37″ L x 48″ W x 42″ H
Learn More About the TU-701
While the design is simple, it really shows a lot and is extremely popular. HVAC/R students can see the refrigerant moving as they use the reversing valve which is really visible on the front of the unit. There's a lot of science behind this unit with the great visual of the reversing valve. Hot and cold air visibly switches back and forth.