TUE-200 Residential Wiring Demonstrator
HVAC/R Students Get Tools of the Electrical Trade with This Unit
With the TUE-200 Residential Wiring Demonstrator, students gain a full understanding of National Electrical Code residential electrical circuits. Through real-world application practice, future technicians attain a substantial beginning level skill and proficiency using tools of the electrical trade.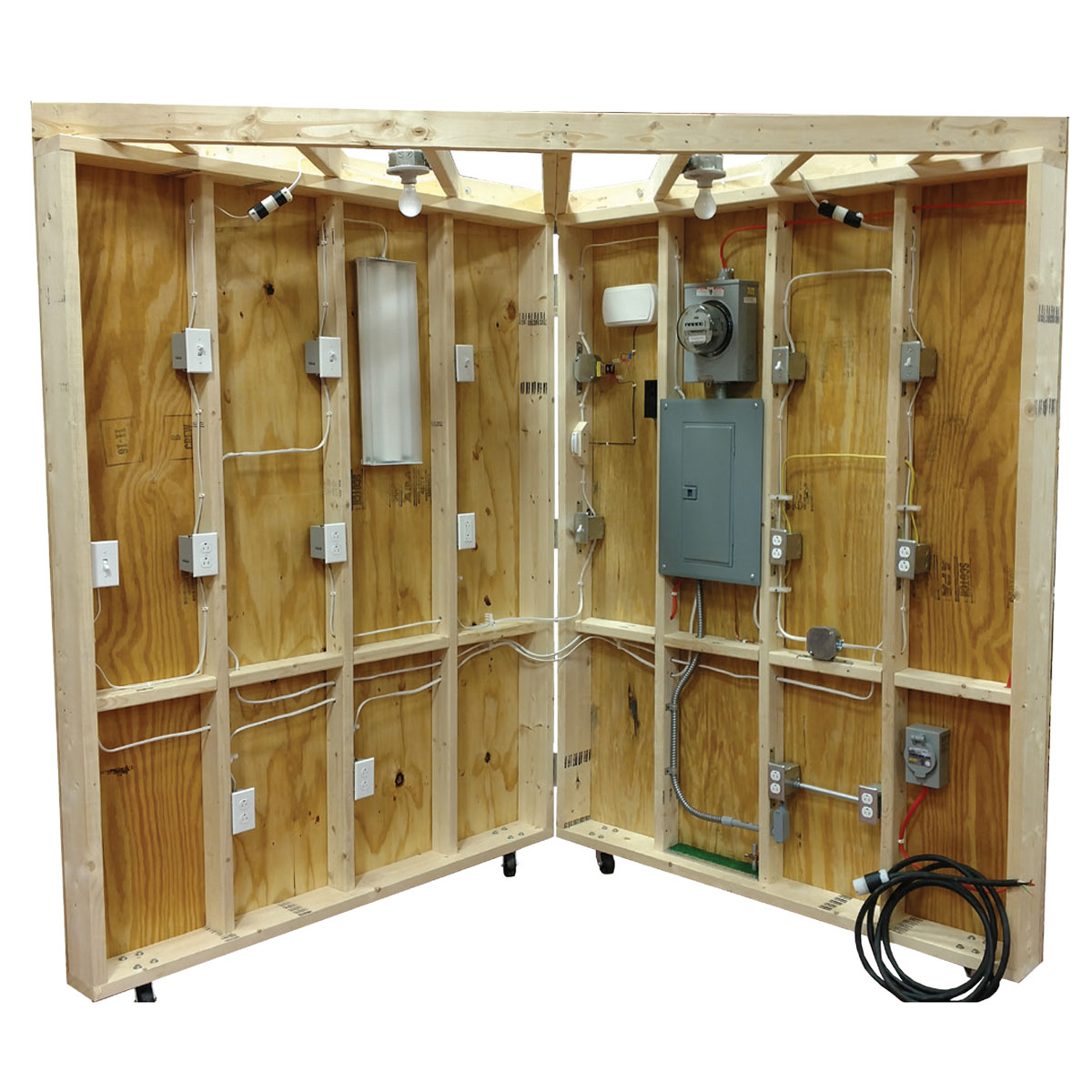 Specifications
Electrical requirements: 240VAC; 60Hz; 30A
Overall size: Triangular Layout: 67″ x 67″ x 99″, 90″ Height
Features
Casters, locking hardware, inter-connecting twist lock plugs and caps to connect the ceiling section. Folds to occupy minimum floor space. Sturdy construction and completely wired. Trainer will provide 100-Amp service.
2 & 3-way switches
Lights controlled from 1 or more locations
Central distribution with circuit breakers
EMT conduit, romex and greenfield wiring
In-wall and surface mounted wiring devices
Low voltage signaling devices, 120 and 240VAC, 3-wire Edison wiring
Control and installation – fluorescent lighting
Control and installation – incandescent lighting
Includes two books, National Electrical Code Book and Electrical Wiring Residential, that offer students opportunities for hands-on practice in interpreting and applying Code requirements, making this an ideal resource for those who will work in the residential electrical industry.
* NOTE: 240V plug not included
For other electrical training units, visit our product page here.
Want to Learn More About This Demonstrator?
Download the product spec sheet or request a quote below. You can also give us a call at (716) 699-2031. We'll be able to answer any questions you may have concerning this HVAC/R training product.
TUE-200 Residential Wiring Demonstrator Video
Suggested Courses
eLearning curriculum is now available for the TUE-200 Residential Wiring Demonstrator Training Unit. The three suggested courses below come to a total of 54 credit hours.
111 Electrical DC Theory Plus
112 Electrical AC Theory Plus
113 Electrical Common Components
Shipping Weight: 780 lbs.
Shipping Dimensions: 97″ L x 45″ W x 80″ H