BL-01 BAS Controller Training Unit
iConnect Training's BL-01 BAS Controller Training Unit is a packaged benchtop learning system intended for Building Automation and HVAC controls technicians/ programmers who work with BAS controllers. Input/ output devices are prewired. Also, it comes with web-based and highly interactive level 1 curriculum emphasizing BACnet networking and Sedona programming.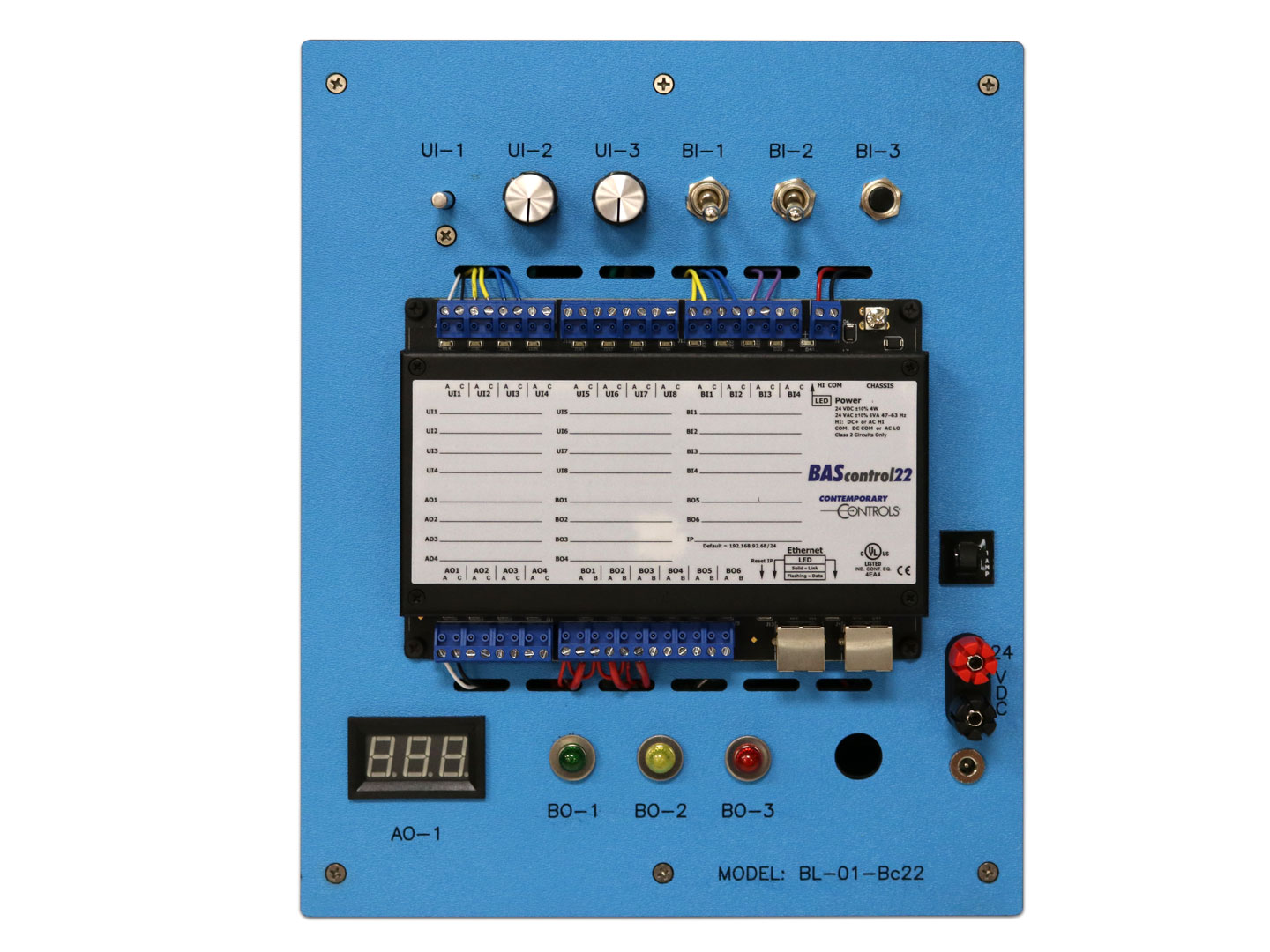 Specifications
Power Requirements: 10W 24VDC (via 120 VAC to 24VDC Wall Adapter)
Operating Temperature: 55°F to 85°F
Storage Temperature: 10°F to 110°F
Relative Humidity: 10 to 95% RH non-condensing
Mounting: Bench-top
Shipping Weight: 15 lbs
Dimensions: 10″W x 12″H x 7″D
Features
Programmable Sedona 22 point unitary controller with BACnet IP, and web interface
Instrument panel with Input/Output components and 24VDC posts
0-10 VDC Digital meter
24VDC 1.5A Wall adapter
USB Drive with Course Curriculum and Setup/support documents
The BL-01 DDC/BAS Programming system can be purchased in these versions:
BL-01-Bc22 – Contemporary Controls BAScontrol22 controller,
BAS Toolkit software, Intro to Sedona Course Curriculum (USB Drive).
Full 1 yr. warranty.
BL-01-DIN – DIN rail mount (No controller included), BAS Toolkit
software. Limited 1yr. warranty. No curriculum included. Note: DIN rail
model requires some final user wiring due to lack of controller.
Suggested Courses
eLearning curriculum is now available for the BL-01 BAS Controller Training Unit. The three suggested courses below come to a total of 57 credit hours.
154 Control System Types & BAS Basics
155 BAS Installation and Strategies
159 IT For HVAC Techs
Shipping Weight: 8 lbs.
Shipping Dimensions: 12″ L x 14″ W x 14″ H