TU-9250 HVAC Controls Training System
Demonstrate the Entire Cycle of a Residential Cooling & Heating System
As a companion unit to the TU-9240, this HVAC controls training system is designed to show the sequence of operation of a residential heating and cooling system. Built as a tabletop unit with 12 modular panels, it functions as a working model so the instructor can teach the basic principles of heating and cooling, complete with all the elements. This system is intended for use early-on in your students' training.
Specifications
Electrical requirements: 120VAC; 60Hz; 15A
Overall size: 45" L x 24" W x 39" H
Features
120VAC with transformer supplying 24VAC low voltage
The unit comes standard with 12 panels
Wiring harnesses provided
Fuel source is a customer-supplied standard propane canister
Operations manual included with electrical configurations
e-Learning Curriculum
TU-9250: Suggested 3 Courses Totaling 54 Credit Hours
Subscription includes instructor's selection of any 5 courses in catalog. Add more courses by request.
111 Electrical DC Theory Plus
112 Electrical AC Theory Plus
113 Electrical Common Components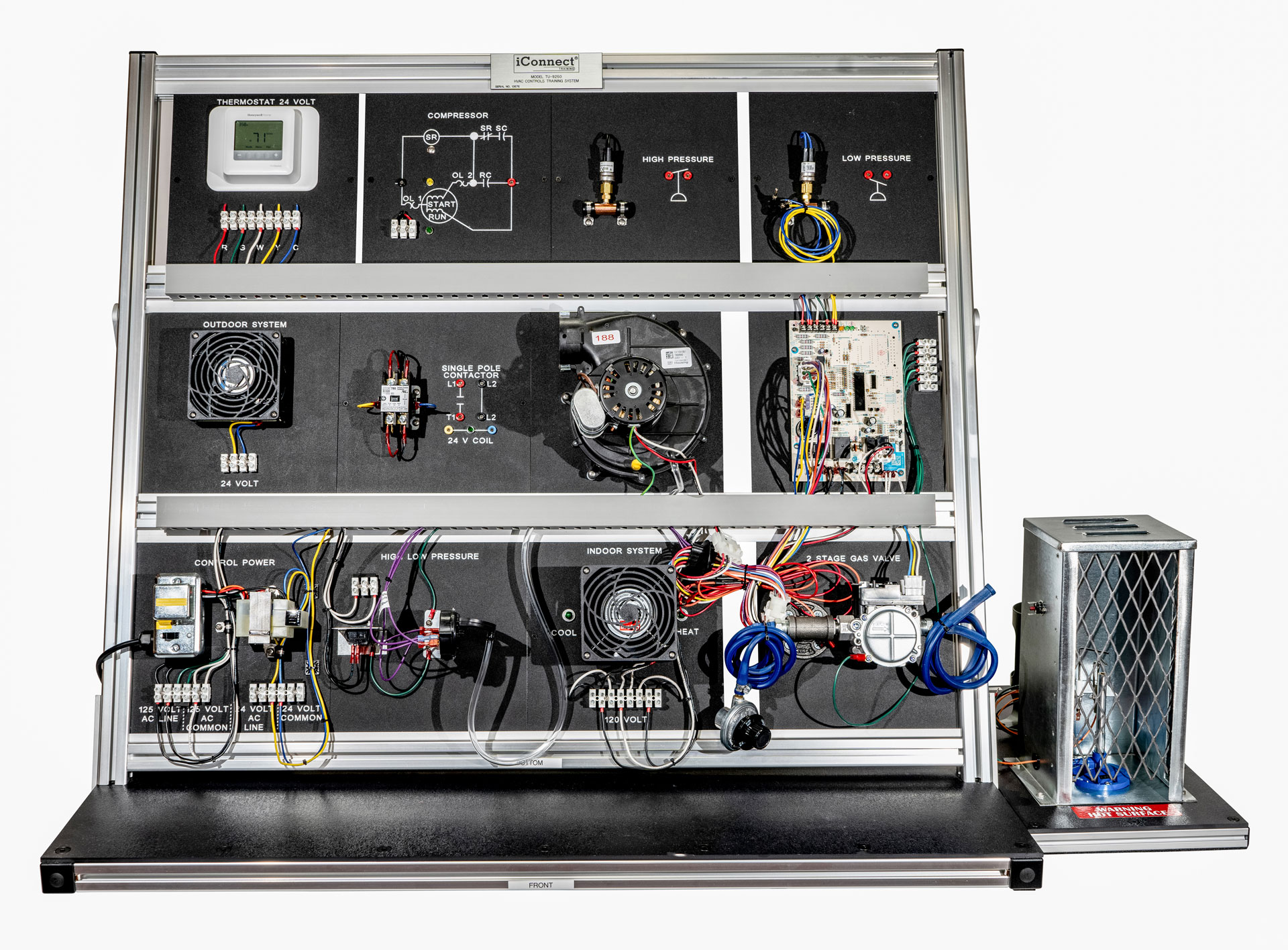 Shipping Weight: 350 lbs.
Shipping Dimensions: 56″ L x 48″ W x 36″ H
Interested in the HVAC Controls Training System?
Download the spec sheet below for more information. If you're ready to buy, request a quote or give us a call directly at (716) 699-2031 to speak with a representative. For iConnect Training's full list of units, view our catalog here.
Learn More About the TU-9250
For the heating system, this unit includes a working model of a furnace burner. Using the furnace print in the manual to direct wire this system from start to finish, the student gains familiarity of the operation of an entire furnace system. All that's needed to fuel the system is a standard propane canister.
The air conditioning portion of this system is simulated with the compressor contactor, high-pressure and low-pressure controls, and the compressor panel, with direct wiring or plug and play options.