With constantly evolving technology, it's more important than ever for vocational schools to provide students with the most up-and-coming curriculum and training equipment. To attract high potential candidates, it's essential that your program integrates the latest HVAC/R technology to prepare them for their future careers. The same is true for HVAC contractors who have developed in-house training to advance their technicians' skills.
With different commercial training units on the market today, it can be difficult to determine exactly what to purchase. One thing to keep in mind is technology. As students start their career, it's important to give them an opportunity to work with HVAC/R technology they'll come across out in the field. Luckily, iConnect Training develops innovative and progressive trainers such as the:
Dual-Application Commercial Refrigeration Trainer
EEV Table-Top Air Conditioning and Refrigeration Trainer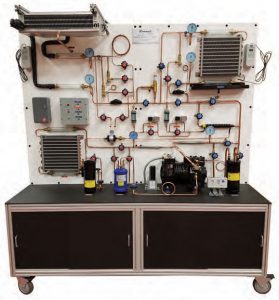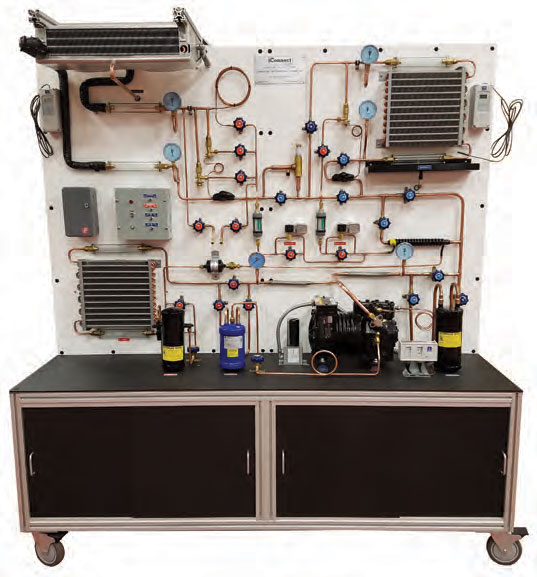 The TU-106 is a deluxe training unit as it demonstrates a multitude of advanced HVAC/R operations including dual temperature applications, multi-evaporator systems and an electric resistant heat defrost cycle. In fact, the biggest differentiator is that this unit features a medium temp and a low temp evaporator, as found in commercial applications in restaurants and grocery stores. The medium temp coil simulates an evaporator for a walk-in cooler, and the low temp coil is for a reach-in cooler. That's why it's dual application!
From customizable isolated access ports for alternate metering devices to liquid refrigerant flow meters, this trainer has it all when it comes to refrigeration. Future technicians get hands-on experience with defrost timers and evaporator pressure regulators (EPR). The included fault package provides multiple troubleshooting scenarios to be created for students to hone their skills before entering the field.
All of which will help them be more prepared when they start their career in HVAC/R.
Learn more about iConnect Training's TU-106 Dual-Application Commercial Refrigeration Trainer here.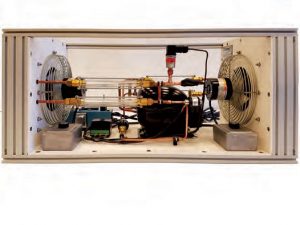 Just like the very popular original TU-805 model, this HVAC/R trainer demonstrates basic air conditioning and refrigeration principles. However, it stands out from other units thanks to its cutting-edge technology.
With an electronic expansion valve (EEV) and superheat controller, the TU-810 is a one-of-a-kind training unit as it controls the flow of refrigerant with a sophisticated design. Instructors can operate, demonstrate and program an EEV electronic and superheat controller right in the classroom. Plus, the TU-810 is lightweight and compact in size, which allows it to easily be moved from classroom to classroom or location to location to suit your training needs.
Visit our TU-810 product page for a showcase video and downloadable spec sheet. Interested in this training unit? Request a quote here.
Did you know that both of these training units come with an iManifold 900C system analyzer kit, as well as, a brand new iManifold Pulse for a roof top unit installation? Learn more about these analyzer kits here.
Get Hands-On HVAC/R Experience with Commercial Training Units
iConnect Training has a comprehensive line of the finest HVAC training units on the educational market. Check out our complete list of products here. Contact iConnect Training today at 716-699-2031!