When developing a successful HVAC/R curriculum, it's important to include lessons that give students real-world experience. Teaching the concepts through books and videos are a great start, but it's even better when future technicians can get hands-on with the systems they'll be working with out in the field. The best way to provide that interactive learning is through heating, air conditioning and refrigeration training units. 
Due to the wide variety of subjects in the industry, purchasing multiple trainers for every topic may not be within budget. However, there are a few key HVAC/R training units that every vocational school should have onsite for their students:
Basic Refrigeration Trainer (TU-100)

Mobile Table-Top Air Conditioning & Refrigeration Trainer (TU-805)

Residential Heat Pump Trainer (TU-406c)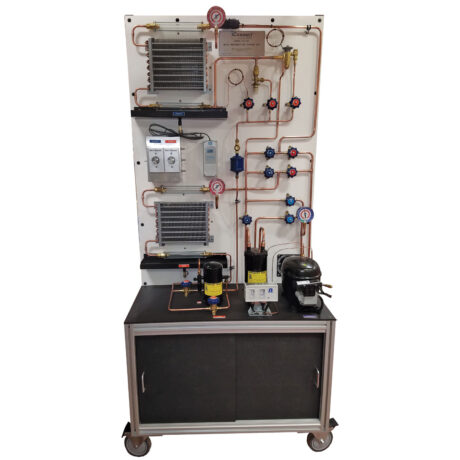 This training unit is one of the most popular due to its ability to demonstrate self-contained air conditioning units, reverse cycle or heat pump systems and domestic refrigerator and freezers. To familiarize students with parts they'll be working with on a job site, it uses popular brand-name components. There are 3 pressure gauges located at key points on the unit to demonstrate to students the changes through the vapor compression cycle. Changing the hand valve configuration allows the unit to demonstrate 4 different modes of operation including straight cool, refrigerator, freezer and even heat pump mode. Designed with students in mind, the unit includes features such as a high-low pressure cut out and accumulator to prevent damage to the compressor – ensuring that the unit will function for years to come.
See our TU-100 product page for documentation and a complete list of features.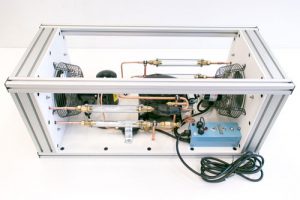 Thanks to its compact size, this trainer can be used in the classroom or on-the-go to demonstrate basic refrigeration and air conditioning principles. It has variable fan speed controls for load adjustment of the evaporator and condenser as well as sight glasses constructed of explosion-proof, tie-bold design. Students can even observe refrigerant and oil conditions under fluid and gas stages of operation. 
See our TU-805 product page for specifications and videos.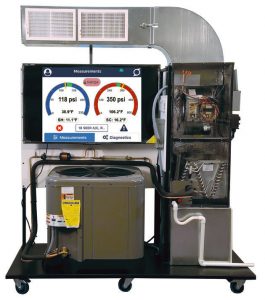 With this training unit, students get hands-on experience working with an air conditioning unit for a residential home. Specifically, they'll learn to troubleshoot piping, wiring and controls. Students can also observe the refrigeration heat pump cycle and the fluid stage of the refrigeration cycle. This unit has four electrical faults, dynamic load control and a hand valve to demonstrate a restriction in the refrigerant line.
See our TU-406C product page for additional information and a complete list of features.
Interested in getting HVAC/R training units for your vocational school?
View our entire list of iConnect Training products on our website or in our catalog.