Recently, during one of our HVAC Excellence Educators Conference presentations, Mike Holoman with System Tech Services, Inc. in Sanford, Florida, and Nick Goode from iConnect Training shared an in-depth overview of the TUE-150 Residential Wiring Trainer. They discuss classroom uses, features, and the unit's design. 
How Can Instructors Use This Electrical Wiring Trainer? 
Any well-trained HVAC tech should know electrical. It's one of the most important concepts taught in vocational programs because of the safety component. If students don't understand electrical, they won't go very far in the HVAC industry because they would be a danger to themselves and others. 
With this unit, students learn and interact with control voltage, low voltage, and high voltage. It has everything that a house has except air conditioning and refrigeration (we've got other units for that ;)). 
Safety is a big thing when it comes to the TUE-150 as the trainer has a feature that allows instructors to introduce the higher voltage. There is a light to indicate if it's on low or high voltage. Once systems have been proven to be correctly wired, they can simply initiate high voltage which turns on and off light bulbs. 
What Are Some Features of the TUE-150?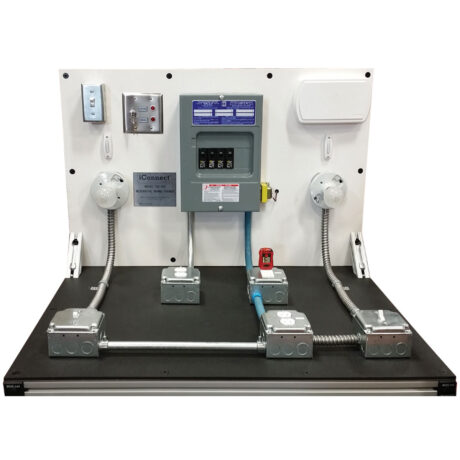 It has a low voltage push button door valve that takes a 120V high voltage circuit that steps down to 24-volts. That's what rings your doorbell! There are two standard duplex receptacles on it and they are GFCI (ground fault interrupter) duplex. These are standard NEC code required nearby any sink, bathtub, or outside, wet environment. It also has two lamp circuits as well as a three-way toggle switch The 3 way toggle switch can be confusing for students, but you can demystify it by taking the covers off to observe this component. There's a three-wire grounding cord that can be plugged into any outlet. 
TUE-150 Residential Wiring Trainer Highlights
There is the main power switch that will turn on a light. Instructors can toggle between 120 volts or 24 volts. The key switch can be removed so that students do not accidentally switch between high and low voltages. 
The circuit breaker panel feeds everything down below including various types of conduits and box connectors. Let's break it down further…
The first breaker is 15-amps and runs down to a standard, 15-amp duplex receptacle. 

The second breaker is a 20-amps and feeds a 20-amp, GFCI which also has another 20-amp duplex that is protected by the GFCI. This was designed so that students know they can have multiple GFCI-protected outlets further down the stream under one GFCI. It also comes with a GFCI tester to show the operation and prove it's wired correctly. 

The third breaker is a 15-amp circuit and runs power lines through a conduit to 3-way switches that are going to each lamp holder. 

Lastly, there's another 15-amp breaker running to the transformer. It's a low voltage doorbell for both front and rear doorbells. 
Easily Teach Electrical with the TUE-150 Electrical Wiring Trainer
Interested in implementing this training unit into your curriculum? Check out our latest catalog here or give us a call today at 716-699-2031 to request a quote.