The TU-420 Refrigeration Trainer Demonstrator is a fully operational, self contained refrigeration cycle (vapor compression type). It is properly charged with refrigerant R-134A at the factory and may be set into service merely by plugging the power cord into a conventional 110V outlet. The main power on/off switch is located on the front panel of the unit. Using the four main parts of the refrigeration system (condenser, compressor, evaporator and control device), this unit demonstrates basic refrigeration principles. These components then work together to cool a small enclosed refrigerator compartment fully featured with an electronic temperature control device.
Specifications
Electrical requirements: 120VAC; 60Hz; 15A
Uses R-600a Refrigerant
Overall Size: 19″ L x 19″ W x 50″ H
Weight: 115 lbs.
Features
Components arranged to illustrate the refrigeration cycle
3 strategically located explosion-proof sight glasses permit monitoring of the refrigerant as it circulates throughout the entire refrigeration system
120VAC with circuit breaker
Comes completely assembled, charged with refrigerant, and ready to operate
Includes Operation Manual
E-Learning Curriculum Now Available!
Suggested 2 courses totaling 36 credit hours
Subscription includes instructor's selection of any 5 courses in catalog. Add more courses by request.
101 Fundamentals
141 Refrigeration I
Interested in This Refrigeration Trainer Demonstrator?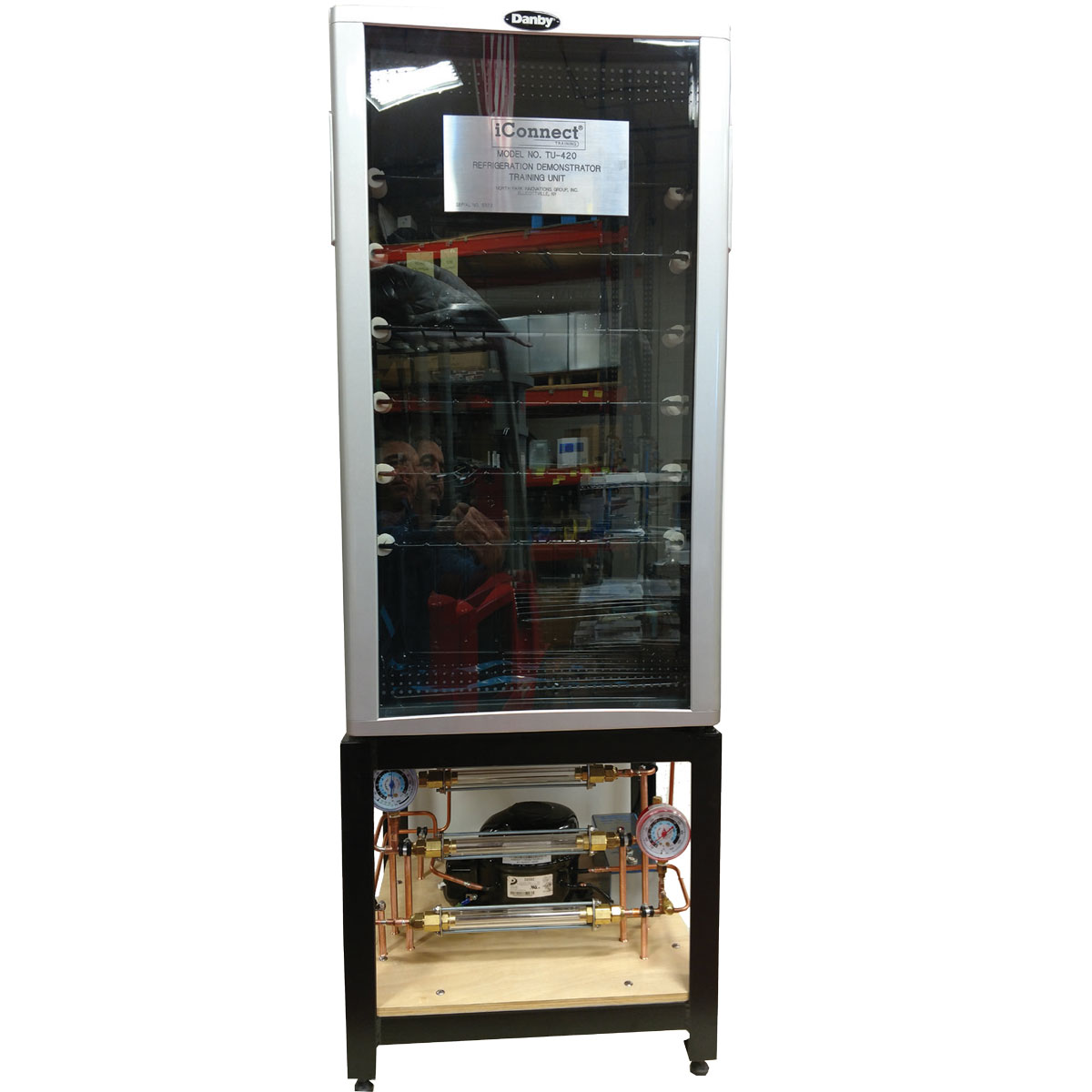 Shipping Weight: 260 lbs.
Shipping Dimensions: 37″ L x 37″ W x 61″ H
How Instructors Use the TU-420 Refrigeration Trainer Demonstrator
With this unit, instructors can teach:
The 3 controls on the unit that shut the system down including evaporator thermostat, circuit breaker and internal compressor overload
Components of a refrigeration cycle which are condenser, compressor, evaporator and control device
Temperatures and pressures in the system (temperature pressure chart included in the manual)
Service procedures like evacuation, charging the system, checking for leaks and extracting refrigerant from the system